How Franchise Resources Helps You Find the Right Franchise
Franchise Resources will help you understand the best type of franchise that will fit your specific skills, talents, investment requirements and experience. Through an efficient interview process, Franchise Resources will develop an understanding of your lifestyle, financial and business goals and requirements. The Consultant will then introduce you to franchises that meet your specific goals and requirements; saving you precious time and investment capital.
Franchise Resources will introduce you to quality franchises that you may have never considered. Your Consultant may also introduce you to franchise companies that you would never have found on your own.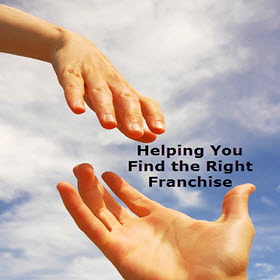 Franchise Resources
will provide you a basic understanding of franchising. Your Consultant will explain the advantages and disadvantages of owning a franchise and offer an objective and unbiased point of view.
Franchise Resources
will explain some popular misconceptions in franchising that will help you to make more informed and better business decisions.
There are other options to consider if you are going into to business for yourself. You can create your business from the ground up. Another option is buying an existing business. Finally, you can invest in a franchise. Franchise Resources will discuss all of these options and will help you decide if franchising is the right option for you.

Franchise Resources will explain what to expect and anticipate in owning a franchise before you invest.
Franchise Resources will help you throughout your investigation and due diligence process, so that you will be able to get the information you need to make an informed decision.
Franchise Resources will explain to you the differences in franchise companies to help you avoid franchises that do not meet your requirements.
Franchise Resources will save you time and money in searching, evaluating and deciding on the best franchise for you without stress and frustration.