Franchise Industry Overview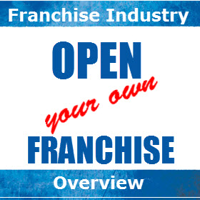 What is a Franchise?
Franchising is a growth strategy to rapidly expand a business. It is a marketing system for creating an image in the minds of current and future customers about how the company's products and services can help them. It is a method for distributing products and services that satisfy customer needs. Franchising is a network of interdependent business relationships that allows a number of people to share:
A brand identification

A successful method of doing business

A proven marketing and distribution system

In short, franchising is a strategic alliance between groups of people who have specific relationships and responsibilities with a common goal to dominate markets, i.e., to get and keep more customers than their competitors.
The Economic Impact of Franchised Businesses
The reason to purchase a franchise is simple. Today, most independent business people have their hands full just relating to the numerous challenges they face on a daily basis. There is little time for the entrepreneur to develop strategies and to analyze the business situations that may confront them. The demands and needs of the consumers are constant.
Therefore, they turn to franchising where there is the staff and support of a multifaceted organization behind them. They have the ability to draw on the training and systems provided by the franchisor, as well as, they can call upon and collaborate with the other franchisees in the system. Most franchisors have dedicated personnel focused specifically on addressing not only the future trends of their business, but also research and development relating to equipment, products, services, training and marketing strategies.

According to "The Economic Impact of Franchised Businesses in the United States" report that was sponsored by the International Franchise Association (IFA), franchised businesses generate a significant amount of economic activity in the United States. For that reason they stimulate still more economic activity in non-franchised businesses. The purpose of this study is to measure the total economic impacts of franchised businesses; the latest data pertains to the year 2005. The estimates pertain to the economies of the United States, every State, and every Congressional District. Franchised businesses operated 909,253 establishments in the United States in 2005, counting both establishments owned by franchisees and establishments owned by franchisors. They provided 11,029,206 jobs, met a $278.6 billion payroll, and produced $880.9 billion of output. Hence, franchised businesses accounted for 8.1 percent of all private-sector jobs, 5.3 percent of all private-sector payrolls, and 4.4 percent of all private-sector output. To indicate economic size in a different way, franchised businesses employed about the same number of people in 2005 as did all manufacturers of durable goods, such as computers, cars, trucks, planes, communications equipment, primary metals, wood products, and instruments.

The economic impact of franchising goes beyond activities inside franchised businesses, because their purchases and the personal purchases of their owners and workers make non-franchised businesses bigger. Thus, the total impact of franchising was to create 20,974,636 jobs (15.3 percent of all private-sector jobs) and $660.9 billion of payroll (12.5 percent of all private-sector payrolls) in 2005. In very round terms, economic activity in franchised businesses generated about the same amount of additional activity in non- franchised businesses